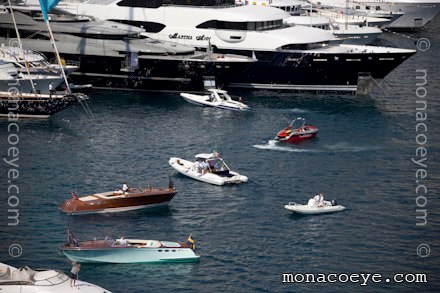 In addition to superyachts, the Monaco Yacht Show also puts on a good show in the tender department. There are usually about a dozen exhibiting tender manufacturers, but all the yachts moored in the bay also send their tenders in and out of the port to collect guests, brokers and clients, and many other small boats visit from the Cannes Boat Show.
Although any craft can be used as a tender, a few different styles predominate, with many of the larger yachts having a variety of different boats for different occasions. A wooden tender, such an antique Riva from the sixties, always expresses a great sense of style. SY Mitseaah, for example, has a Riva Junior. Now that
Riva
no longer make wooden boats, many other manufacturers produce retro-looking models, such as Swedish-based J Craft, although modern materials are used for the hull.
In the wooden category, Serenella hand-crafted Venetian limousines - used as water taxis in Venice - are both elegant and protect guests from the elements.
Using more modern materials, but still with a traditional look, US builders Hinckley and Chris Craft produce a wide variety of runabouts.
The very large yachts will often have one or two Australian-built Vikal limo or "semi-limos" on board. Danish-based
Royal Tender
, has also entered the enclosed limo market recently.
RIBs
, short for Rigid-hulled Inflatable Boats, are the easiest sort of boat to handle for crew, as there is minimal danger of damaging the all important paintwork on the yacht, or indeed scuffing the tender itself on the quayside. They have a rigid hull surrounded by an inflatable rubber sponson or tube. Novurania are popular general-purpose tenders in this category, and Italian-based Dariel have some very elegant designs too.
Although most yacht tender manufacturers are able to provide a great deal of customisation for their clients, some yachts have one-off tenders that often match the design of the yacht. The Philippe Starck designed Vaudrey Miller tenders to A, and Espen Øino's
Moon Goddess
spring to mind, although the latter is really a yacht in its own right, and carries a tender of its own!
In a wider use of the word, any vehicle, craft, or aircraft can be termed a tender if it carries passengers or goods to or from the main yacht - many of the larger yachts carry helicopters for longer journeys in remote locations, while some yachts carry cars on board.
Check out the
tender
link to get an overview of a wide variety of boats on display at the Monaco Show and in use throughout the year.