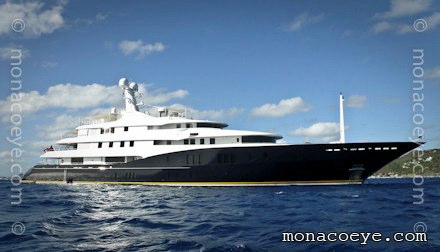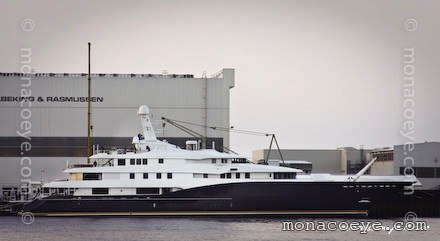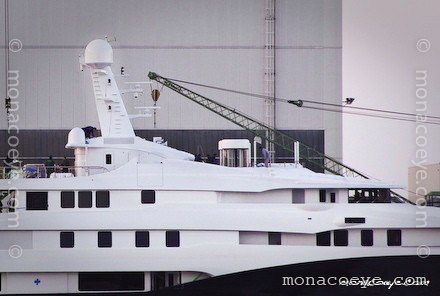 Yacht name:
C II
(C2)
Length: 257 ft • 79 m
Year: 2008
Builder: Abeking & Rasmussen • # 6479
Design: Reymond Langton
Photo: Robert Paylor • St Barths • March 2009
Photo: Klaus Gaeth • Lemwerder • December 2008
Following on from Andrei Melnichenko's "A" launched earlier this year, might CII herald a rush by prospective yacht owners to snap up the remaining 24 letters of the alphabet?
Klaus has just sent in shots of Abeking & Rasmussen's latest launch getting her finishing touches in Lemwerder.
Although a sister to Eminence, the exterior styling seems less curvy, with the characteristic Reymond Langton "darts" or "arrowheads" almost absent.
There is an interesting
transparent enclosure
on the sun deck in front of the mast - possibly a lift (elevator)?
Update: April 2009 - Superb
new photo of C2
taken during the St Barths season, by Bob.
This animation shows 24 hours of shipping traffic in the English Channel - or La Manche as the French call it - one of the world's busiest shipping routes. Over 400 large ships pass through the Straits of Dover a day - the visualisation is mapped from GPS data.
Below is the even more extraordinary map of aircraft traffic over the UK. From the
Beeb
.
What are the chances of being hit by lightning when out sailing in your boat? What would the effects be? What can you do to protect yourself?
If you are a sailor and haven't considered these questions, maybe you should hop over to
sailingcatamarans.com
and read the illuminating first-hand account of what it feels like to be hit by lightning when out in your boat.
Three things you may not know about lightning (from the article):
• Lightning strikes in fresh water are far more damaging than strikes at sea because fresh water is not a good conductor.
• When lightning threatens, protect electrical gadgets like VHF, radar, camera and computer by placing them in the oven, which acts as a Faraday cage.
• Of the 5000 boats insured by Pantaenius in 2003, 300 made a major claim in one year …
Read the whole article
here
. If you've been hit by lightning I'd love to hear your stories, or send photos to monacoyachts@gmail.com …