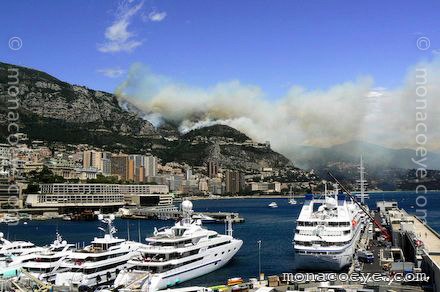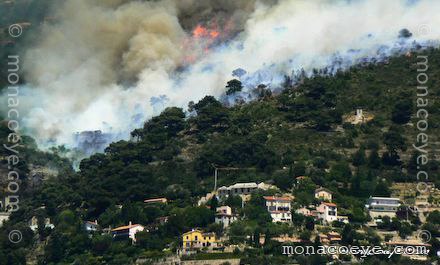 A dramatic brush fire swept across the hillside above Monaco on Monday, endangering dozens of villas perched on the exposed mountainside above the Grande Corniche road. Smoke and flames were clearly visible from the port as tourists and Grand Prix crew alike looked on in horror…
Firefighters battled the flames for hours before finally bring it under control late afternoon using their famous Canadair waterbomber planes, which first scooped up sea-water in the bay below and then dropped it onto the flames.
Meanwhile, the motorway to Italy and the Grande Corniche were closed to traffic, creating huge jams between Monaco and Menton. According to local TV news yesterday, amazingly no houses were damaged and no casualties reported.
The following sequence of 15 photos shows the progression of the fire between noon and 2.30 pm.
The first photo
, taken at 11.42 am in Port Hercule, shows the fire has not yet started. In the
second photo
, taken at 12.13 of Floridian leaving, smoke is already visible. In the
third photo
, taken at 12.32, the fire is raging above the Grande Corniche. By 2.30 pm the fire has skirted the hillside and is moving down on a small group of houses along the road from the Vista Palace Hotel…