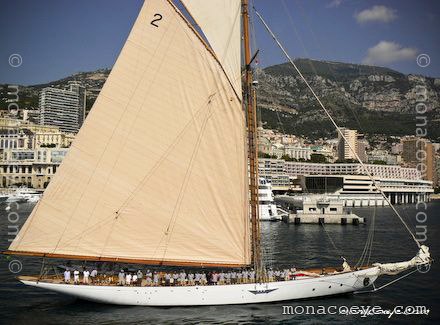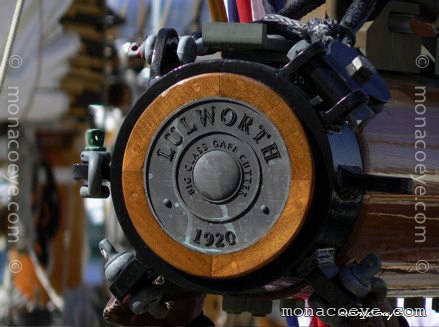 Yacht name:
Lulworth
Formerly: Terpsichore
Length overall: 151 ft 10 • 46.3 m - Deck Length: 37.2 m • 122 ft - Waterline: 26.6 m • 87 ft 2
Year: 1920 • Refit: 2006
Builder: White Brothers, Southampton
Architect: Herbert White
Photo: October 2007 • Monaco Classic Week 2007
Photo: October 2006 • St Tropez Regatta & Monaco Yacht Show
Lulworth, originally one of the most successful big class gaff cutters, was relaunched in May 2006. She has been beautifully restored, in Viareggio, Italy. The mast is 52 m high.
Lulworth belonged to the 23m International Rule of 1907 . As with the other Metre Rule classes, for example the 6m and 12m classes, the number did not refer to the length of the boat but was the product of a formula which included the waterline length, girth, and sail area. Some of the other 23m "Big Class" yachts - White Heather II, Britannia, Cambria, Candida and Astra - were later converted to the J class. This evenly matched racing class from the American Universal Rule encompassed boats between 76 and 87 ft in waterline length, 120 ft length over all, and less than 160 tons displacement.