Ambrosia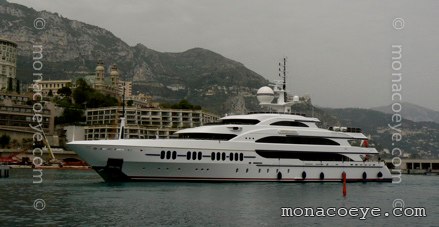 Yacht name:
Ambrosia
Length: 213 ft • 65 m
Year: 2005 - 2006
Builder: Benetti • FB231
Photo: Monaco • 19 June 2006
Ambrosia was scheduled to appear at the Monaco Yacht Show last year, but was evidently delayed. All we got to see of her was this
model
. She was spotted a couple of weeks ago in Cannes and this is the moment she entered Port Hercule for the first time a couple of hours ago!
The Quai des Etats Unis (one side of the port) was cleared this morning, in preparation for the annual Showboats International Monaco International Rendezvous 2006 Yacht Awards (they should shorten that!) this Thursday.
Lined up on the quay now are Shadow Marine, which is being used as the Showboats HQ, Alysia, Zoom Zoom Zoom, Ubiquitous, S87 (and Paladin). Elsewhere, the usuals plus Ecstasea, Ice, Sweet Doll, Annaliesse, Force Blue. The sirocco has deposited a fine layer of Saharan sand over the Principality, so there will be a fair deal of cleaning up to do before Thursday, I imagine…