22 May 2008 10:14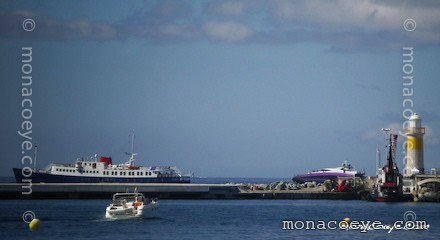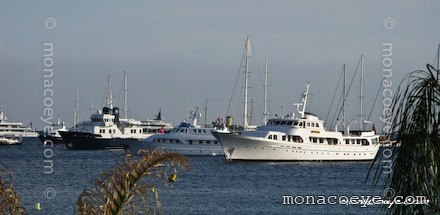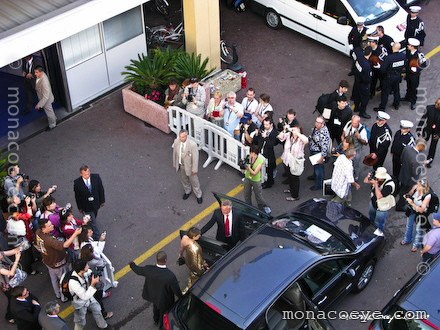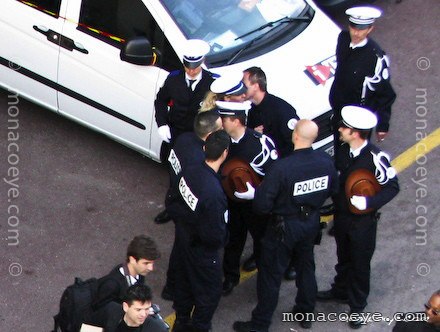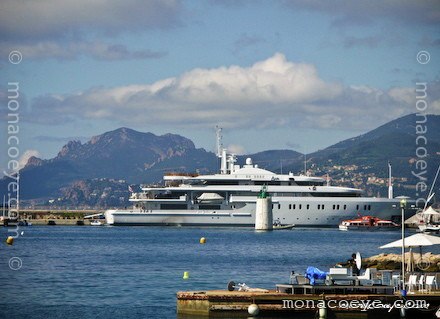 The
Cannes Film Festival
is now in full swing. As the week progresses yachts will zip up the coast to Monaco in time for the Grand Prix on Sunday. This nice set of photos, taken by Alexia on Sunday, show a busy waterfront and some of the behind-the-scenes action.
The shot that really captures the moment is #3:
Linda Evangelista
leaving the artists' entrance and getting into a courtesy car, while in the top corner of the picture, police are greeting each other, in typical Gallic fashion, still proudly clutching their Indiana Jones hats, distributed earlier at the Crystal Skull Premiere ! (thx Albert for star ID)
The top
blue hulled yacht
with the red funnel is the recent conversion Harmony II. Roberto Cavalli's RC is in the same shot to the right beside the lighthouse…
Photos: AW • Cannes Film Festival • 18 May 2008
20 May 2007 13:00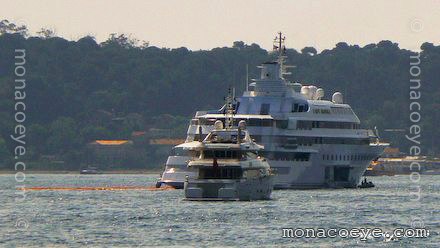 Breaking news: It is being reported that
Lady Moura has run aground
off the Port Pierre Canto in Cannes. The incident appears to have happened Saturday afternoon. According to a post on yachtspotter, she sent out a distress message on VHF saying she had run aground off Port Canto. She was listing 5 degrees and leaking fuel. She was then pulled off the 4.5m sea floor by a tug after the orange floating containment barrier, visible in the photo above, was placed around her. Guests and luggage were off-loaded.
By coincidence I happened to be in Cannes this [Sunday] morning, unaware of the accident. In the above photo taken at about 10 am (which happened to be in the background of another shot) she seems to be still listing, and the anti-pollution barrier was in place.
The area around Cannes during this period is extremely busy. Typically there will be 30 odd megayachts moored in the bay, with another 50-100 yachts over 30 m in length moored in the two ports at either end. Added to this are countless smalled craft, speedboats and tourist barges. There is a lot of movement with even the very large yachts such as Lady Moura moving around during the course of the day.
Update: The fuel was mopped up very quickly and Lady Moura is now safely in Spain for repairs.
Photo: monacoeye • 20 May 2007 • Cannes Film Festival
News source: PMY forum and
yachtspotter
18 May 2007 15:35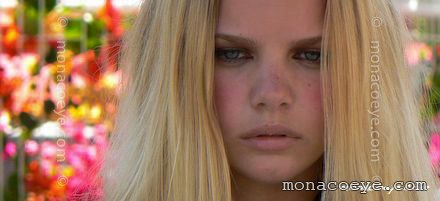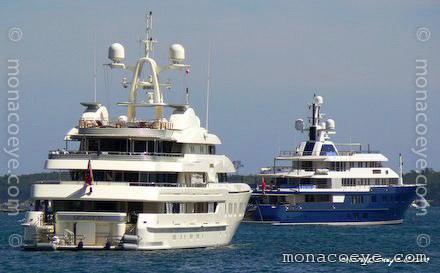 The 60th
Cannes Film Festival
opened on Wednesday and runs from 16th to 27th May 2007. It's one of the top yacht destinations, with media companies chartering many yachts and others just coming for the parties. Who was the mystery starlet (above) posing briefly at the Palais des Festivals, on Thursday? Yachts attending included the Perini twins Selene and Santa Maria, Polar Star, Montkaj, Tatoosh, Lady Moura, Sarah and a strange prototype called Proteus.