11 Apr 2008 13:07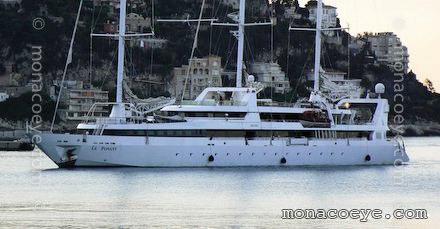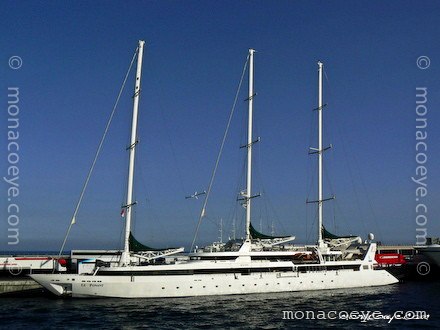 Cruise Yacht Name:
Le Ponant
Length: 288 ft • 88 m
Year: 1991
Builder: SFCN - Société Française de Construction Navale
Architect: Michel Bigoin
Design: Joël Bretecher • Stirling Design International
Passengers: 64 • Crew: 32
Operator: Compagnie des Iles du Ponant
Photo: monacoeye • Nice • May 2007
Photo: monacoeye • Monaco Grand Prix • May 2006
Update
: 11 April 2008
Sarkozy has announced that the hostages have now been freed !!
All are safe, no violence was used, no other details given.
Breaking news
5 April 2008
Three-masted mini cruise ship Le Ponant has been seized by pirates in the Gulf of Aden off the coast of Somalia. France is looking into its military options with a regard to releasing the hostages.
No passengers were on board, but thirty crew, mostly French, were taken hostage. 22 of the crew are French, 6 of whom are women. The remaining eight are Ukrainian and Korean.
The yacht was heading back from the Seychelles to the Mediterranean. It is a regular visitor to Nice and Monaco in the summer.
French Prime Minister François Fillon said: "This is a blatant act of piracy. We have significant military resources in the area. We are aiming to bring about the release of the hostages in the coming hours." On Saturday he clarified that the French navy was pursuing the cruise ship and would try to resolve the situation without the use of force.
France already has a military presence in neighbouring Djibouti.
Surveillance aircraft and ships from French-run anti-terrorist unit Task Force 150, part of US Operation Enduring Freedom, have headed towards the area.
Although Le Ponant is the size of a large yacht, it is a small cruise ship, which can accommodate 64 passengers. It is operated by French company La Compagnie de Iles du Ponant, which is part owned by CMA-CGM, and mostly employs French crew.
Le Ponant is one of the few ships to cruise the Indian Ocean.
The coast of Somalia is notorious for pirate attacks. In 2007 a total of 31 piracy incidents were recorded in Somalia, a big jump from the 10 reported in 2006. Pirates held 154 crew hostage in 11 hijackings.
In Nigeria, the other major hotbed of piracy, 42 incidents were reported in 2007, compared to 12 in 2006.
Across the whole world, 263 attacks were recorded in 2007, versus 239 in 2006.
Statistics:
ICC CSS
Sunday Update
: French Foreign Minister Bernard Kouchner says France has established contact with the boat and the crew are safe and sound. He says he expects lengthy negotiations and will do everything to avoid bloodshed.
Ransoms paid in the past, in similar situations, are reported to be in the order of half a million to one million dollars.