02 Jul 2009 16:28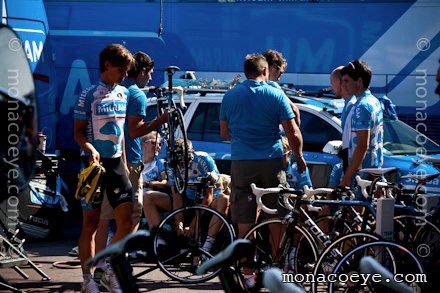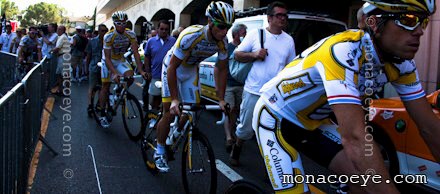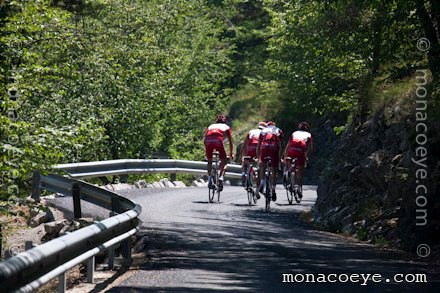 Teams, TV crews and the whole Tour de France shebang have been streaming into the principality this week in the build up to the Grand Depart of the Tour de France, which this year starts in Monaco, this Saturday, 4th July 2009.
We crossed the
Cofidis
team near Sainte Agnes on Thursday afternoon. Incredibly in the near 30 degree heat, having climbed 950 metres from Monaco, the team looked very relaxed, hadn't broken a sweat, were chatting merrily and said hello as they passed !
Two to three hundred thousand people are expected to visit Monaco for the event. There are a few new yachts around. The recently launched CRN
Tacanuyaso MS
is berthed under Fort Antoine. Al Mirqab and A have been sailing along the coast nearby.
The route for Saturday's Monaco-Monaco 15 km Stage 1 is: Port, Casino, Princess Charlotte, Jardin Exotique, back above Monaco along Moyenne Corniche to Bon Voyage, down past Tennis, Larvotto, back to Port.
The first rider leaves at 4 pm on this time trial and is expected to take 20 minutes to complete the circuit. Cyclists then leave every minute until 7 pm. The "Caravan" (free key-rings etc) leaves at 1.30 p.m. *
*These times are taken from the official Tour de France website, but it seems they have started a little earlier than scheduled…
Sunday's Stage 2 is much longer: 187 km Monaco - Brignoles, via Nice, Grasse, Fayence and Draguignan, starting at 12.20 in the Place du Casino.