30 Nov 2008 12:44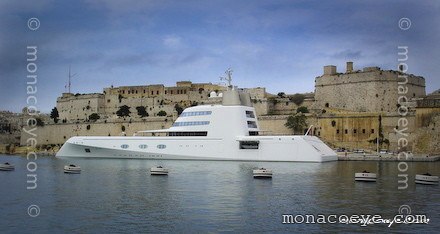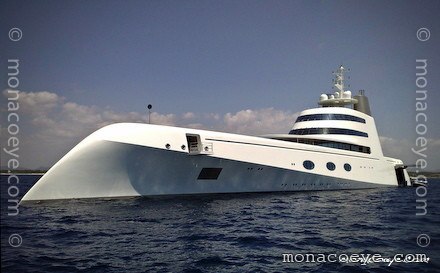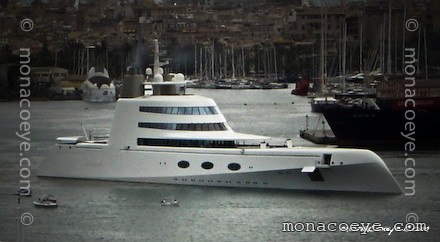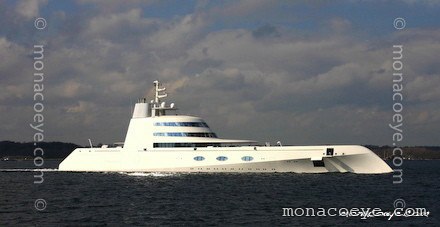 Yacht name:
A
Formerly:
Project Sigma
• SF99
Length: 390 ft • 119 m
Year: 2008
Builder: Blohm & Voss • HDW • # 970
Architect: Martin Francis
Design: Philippe Starck
Photo
Thomas • Valletta Grand Harbour, Malta • October 2008

Photo
monacoeye • Beaulieu • September 2008

Photo
Gerhard Merz • Palma de Mallorca • July 2008

Photo
Andreu • Palma de Mallorca • July 2008

Photo
Klaus Gaeth • near Kiel • 11 March 2008

Photo
Armin Tank • Kiel • 10 March 2008

Photo
Jörg Brekeller • Kiel • 20 February 2008

Photo
Boschuda • Kiel • Dec 2007 - Jan 2008
Oct 2008: A nice shot of A in
Malta
from Thomas and an earlier one from when she visited
Monaco
. July 2008: A has arrived in
Palma de Mallorca
, more excellent
Nokia N95
shots ! June 2008: The Final name of the yacht formerly known as Sigma and SF99 is the unGoogleable "A". A's owner is Andrei Melnichenko, (see comments below, January 2008)
---
First Sea Trials: Excellent photos from Klaus Gaeth in Kiel of
SF99's first sea trials
. And if you're wondering what makes Philippe Starck tick,
here he is
on the big design questions - life, the universe, and toilet brushes ….
---
March 2008: New photos from Boschuda !
Another veil is lifted from SF99
as the plastic protective covering is peeled from the windows on the lower deck and the scaffolding is removed from around the funnels, masts and Sea-Tel domes. The anchor enclosure also seems to have a new cover. Hydraulic hatches can be seen at the back. The name
SF99
is clearly written on the stern - visible in Armin's shot from yesterday evening - possibly a temporary name…
---
February 2008: More new photos, taken by Armin, showing off
the razor sharp bow
…
Great new photos of Project Sigma
- taken by Jörg - of the extraordinary new Philippe Starck designed megayacht from ThyssenKrupp, conceived in 2003.
---
Once again,
Philippe Starck
has made a radical departure, literally turning yacht design on its head, with a superstructure reminiscent of an upturned keel. He has also borrowed heavily from
modern warship
lines. Like it or loathe it, this will most certainly be
the
yacht of 2008.
Robert Frank of the Wall Street Journal has already dubbed this
the ugliest yacht in the world
! Although many of his readers appear to disagree…
Pantsbloke's (!) comment below that the owner is Andrei Melnichenko has now been confirmed.
At 118 m, Sigma is the world's 9th largest yacht - 3rd largest if you don't count state-owned yachts and charter cruisers. Though she will drop a place when the yet unseen Project May from Peterswerft is launched later this year.
Design plans on Philippe Starck website
here
(under vehicles).
26 Feb 2008 17:44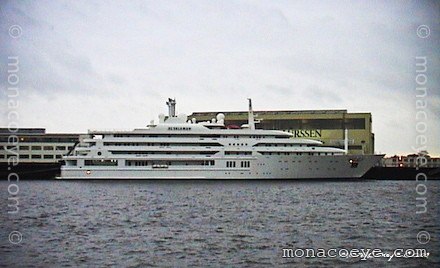 Yacht name:
Al Salamah
Length: 456 ft • 139 m
Year: 1999
Builder: Lürssen # 13590 • HDW
Design: Terence Disdale
Photo: Thilo Klink • Lürssen Werft • Bremen Vegesack Lemwerder • 2001
Finally a shot of the Saudi royal gigayacht Al Salamah - thanks to Thilo !
These photos were taken on a visit to the Lürssen Werft yard in Bremen Vegesack, back in 2001, in the pioneering days of digital cameras - I had a bit of fun with a Hockney style composite with the low res originals.
Al Salamah was back at MWB Bremen, in Bremerhaven, in 2007 - did anyone happen to record the visit ?
Thilo also has a question which had me stumped - I'll post it in the comments.