05 Jun 2009 17:38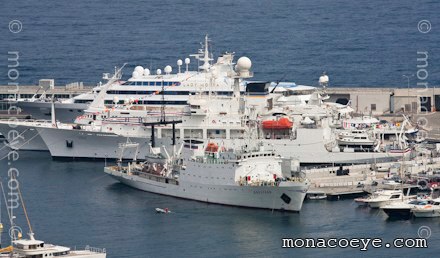 The International Hydrographic Bureau has its HQ in Port Hercule, just above the Stars and Bars restaurant, and so Monaco hosts the International Hydrographic Conference. This year's conference, finishing today (5 June 2009), has brought the US and Russian hydrographic vessels, Henson and Donuzlav (foreground), to the principality. Behind them can be seen Atlantis II and Lady Moura.
Hydrographic Vessel name: Donuzlav
Navy: Russia, Black Sea Fleet
Class: Project 862 • Yug Class (11 total - Oceanographic Research)
Year: 1978 - 1983
Builder: Stocznia Polnocna, Gdansk
Hydrographic Vessel name: US Naval Ship Henson (T-AGS 63)
Navy: US
Class: Pathfinder Class #4 Oceanographic Survey Ship
Length: 328 ft • 100 m
Year: 1996 • In Service: 1998
Builder: Halter Marine
What's in a name? Matthew Henson was an African American explorer who accompanied Robert Peary on a 1909 expedition to the North Pole. Donuzlav is the Ukrainian estuary around Sebastopol on the Crimean Peninsula where both Ukrainian and Russian Black Sea naval fleets are based.