19 Nov 2007 11:37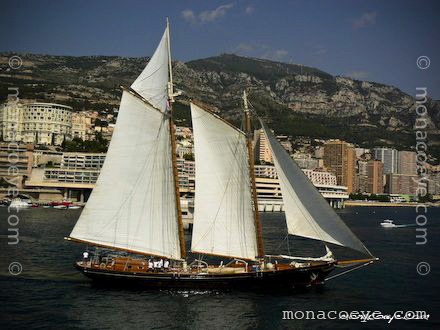 Yacht name:
America
(replica)
Year: 1967
Builder: Goody & Stevens
Architect: Olin Stephens • Sparkman & Stephens
Yacht name: America (original)
Length LOA: 21 m
Year: 1851 - 1945
Architect: George Steers
Builder: William H Brown, New York
The original America won the 1851 One Hundred Guinea Cup around the Isle of Wight, defeating 14 British yachts, for a syndicate from the New York Yacht Club. Her reverse bow, and sails laced to the mast, served as an inspiration to British designers for 25 years. She took part in the first America's Cup in 1870, coming 4th. Her last race was in 1901, after which she slowly fell into disrepair. She ended her days burned for firewood in 1945.
In 1967, the replica America was built by Sparkman & Stephens. It featured in a commercial for Schaffer brewery before being sold as a private yacht.