28 May 2011 18:43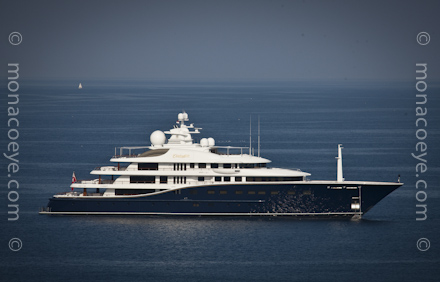 Copyright: monacoeye • 2011 • Monaco • Do not copy without permission.

A few pics from the Grand Prix… Indian Empress dominates the T-jetty again with Force India beside her. Incongruous sight of a dozen portaloos being hauled off yesterday - apparently they'd had a party with 600 guests the night before and didn't want them using the ships toilets! Out at sea, the new 85m Cakewalk (above) is the most impressive…
Here are the big photos
, new all-on-one page format this year - you do have broadband, don't you? - enjoy!
PS A couple of pics from Cannes, which finished last week thrown in (Sea Shepherd and Octopus), plus a couple of Katara, which also visited Monaco fairly recently.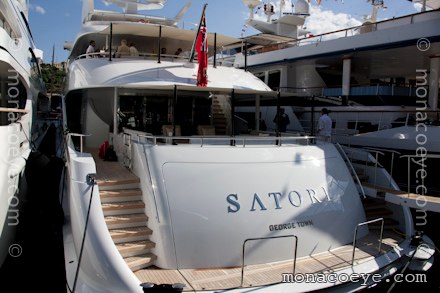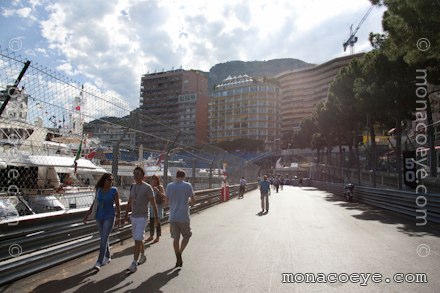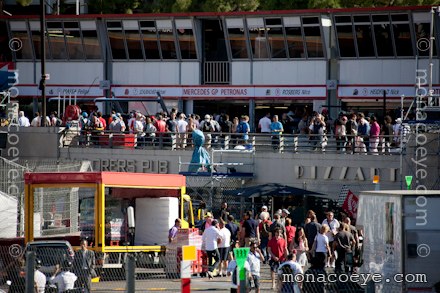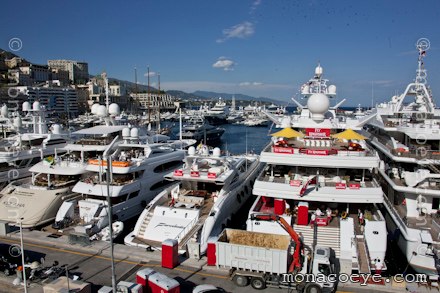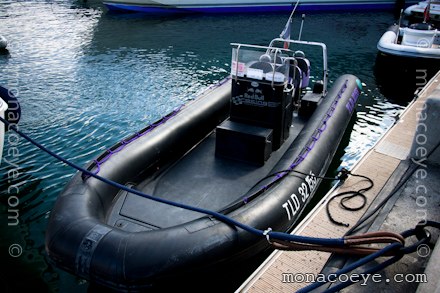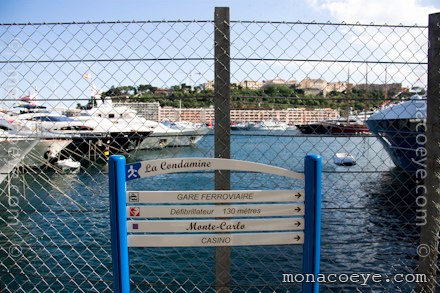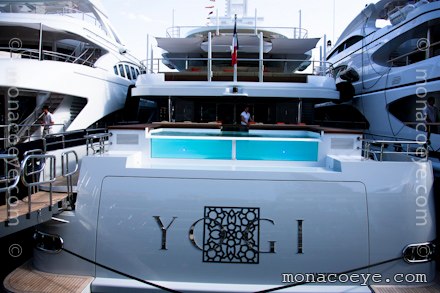 25 May 2009 05:57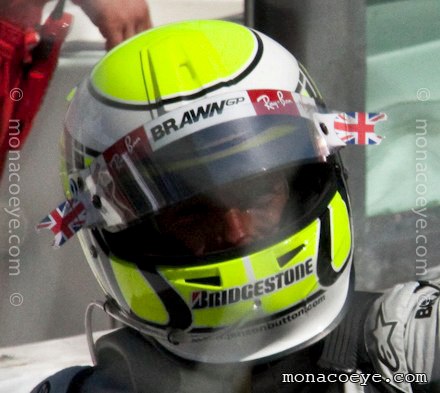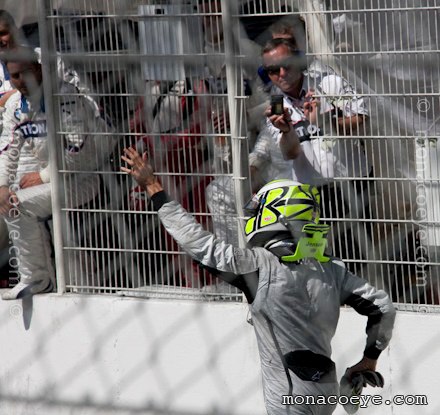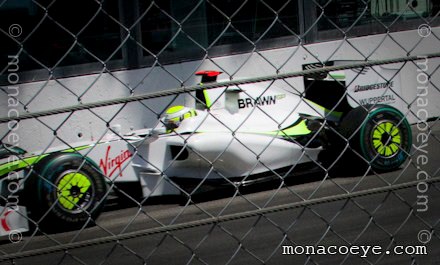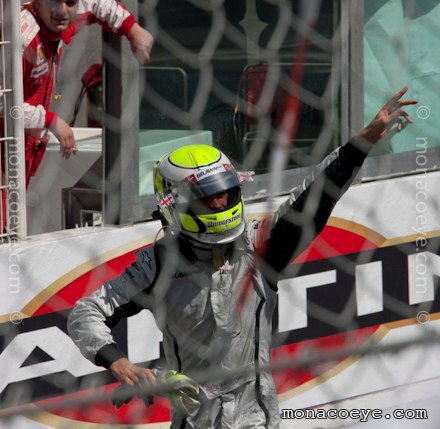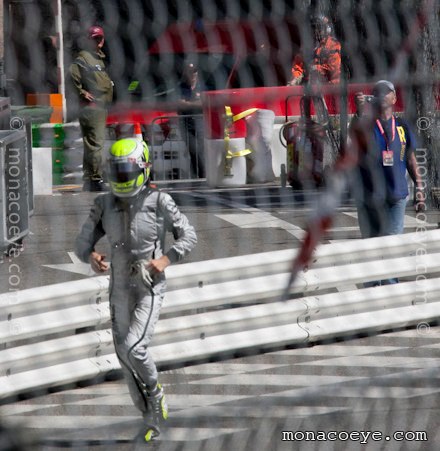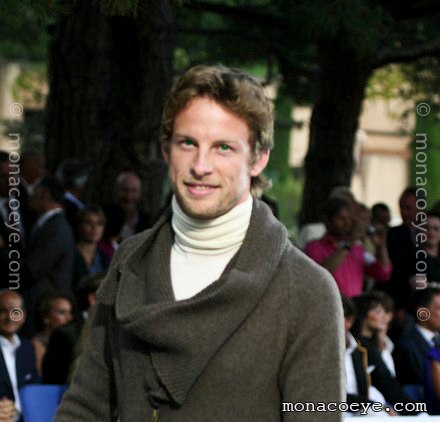 Photos: monacoeye • Monaco Grand Prix 2009
Photo: Tatiana Hughes • Monaco Grand Prix 2008.
"We've got Monaco, baby" -
Jenson Button's
words over the Brawn GP radio as he and team-mate Rubens Barrichello strolled home in first and second place yesterday.
In a tactical gamble, Brawn were the only team to start with super-soft tyres, which gave them an early lead, but were liable to deteriorate faster than harder tyres.
Meanwhile, last year's winner Lewis Hamilton had a bad race, starting at the back of the grid after crashing in qualifying. Ferrari showed potential picking up third and fourth.
Button's only mistake was to park in the wrong place in the pits after winning the race, so he ran back along the track to the podium, to great applause from both the crowd and rival crews.
18 Apr 2009 05:55
Jenson Button got the green light in the Brawn diffuser row on Wednesday… If you haven't been following this year's F1 Grand Prix, here's an armchair recap of what is turning out to be a very exciting season.

Last year the FIA, Formula One's ruling body, changed many of the strict rules defining specs for Formula One cars. The intention was to promote overtaking, the lack of which has long been recognised as a major turn-off for TV audiences. After all, nothing more boring than seeing cars finish in the same order as they started in.

They further capped the power of engines, tyres reverted to slicks, and they changed various regulations which apply to the all-important aerodynamics of cars. The intention was to improve grip on corners, slow the cars down a little, and reduce turbulence, which had made cars difficult to approach and therefore overtake. However the new specifications proved open to interpretation …

Meanwhile, with the credit crunch hitting the car industry, Honda GP was bought out (for one pound!) by its Mancunian team principal Ross Brawn, who had steered Ferrari to victory, as former Technical Director, throughout the great Schumacher era.

Brawn GP, as Honda was now known, developed a powerful split-level diffuser in 2008. The diffuser is the rear stabiliser which increases downward pressure, grip, and, therefore, speed. It is sometimes said that a Formula One car should be able to drive upside down on the ceiling, because at full speed the downforce produced by its aerodynamics is equal to about 2.5 times the weight of the car.

Williams and Toyota produced similar diffusers but the big names that have dominated F1 for many years - Ferrari, McLaren, BMW and Renault - did not, and they duly lodged complaints against Brawn after the first Grand Prix of the season in Australia, which was won by Jenson Button in his fast Brawn car.

However, Brawn's diffuser was deemed legal, so then there was an appeal against the decision, meanwhile Button won a second GP in Malaysia, and finally the appeal was rejected this week, with the result that Button's victories will hold. McLaren, Ferrari and BMW will now be scrambling to develop similar diffusers, but this will take time, and money…

Talented wunderkind Sebastien Vettel is on pole for tomorrow's Chinese Grand Prix in a first for Red Bull, but Button stands a good chance of quickly moving up the pack from current 5th position, as he has more fuel onboard and thus will only pit later … The Chinese GP will be followed by Bahrain, then Barcelona, then Monaco on the 24th May.