05 Dec 2006 00:44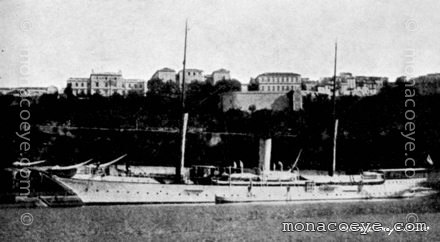 Yacht name:
Hirondelle II
Length: 269 ft • 82 m
Year: 1911
Builder: La Seyne, Toulon
Photo location: Monaco
Power: 2200 hp twin screw
Speed: 15 knots
Owner: Prince Albert I, Albert Grimaldi of Monaco (1848 - 1922)
Hirondelle II was Albert's fourth and final explorer ship which he had built in 1911. His fastest and largest ship, it was even equipped with wireless telegraph. Whenever the Prince spent time in Monaco during WWI he stayed on board the yacht in the harbour! After the war, the ship stayed in Monaco to the Prince's death in 1922.
Photo credit: By kind permission of NOAA Rice Library of the NOAA Centers for Coastal Ocean Science. Image ID: ship4641, NOAA Ship Collection. The HIRONDELLE II. Plate III, figure 13. In: "Results of the Scientific Campaigns of the Prince of Monaco." Vol. 84.