10 Sep 2005 19:35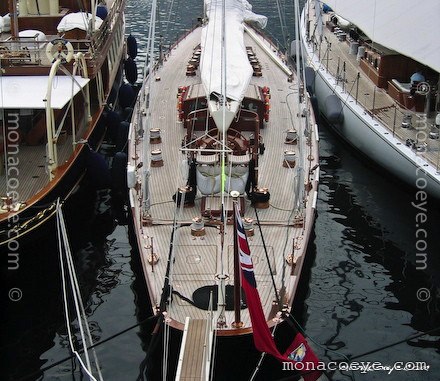 Yacht name: Shamrock V • J K3
Formerly Shamrock V -> Quadrifoglio
Length: 120 ft • 36 m
Year: 1930 • Refit: 1980 • 2001
Builder: Camper & Nicholson
Refit: Gerard Dijkstra
Three days away from the 7th Monaco Classic Week 2005, three famous, and rare, J class racing yachts have already arrived.
Here is Shamrock V, the oldest of the J class sloops, built in 1930 for Sir Thomas Lipton's last America's Cup. Designed by Nicholson and built by Camper and Nicholson, she is also the only remaining J class to have been built in wood.
Shamrock V was owned by two famous aviators Sir Sopwith and Sir Richard Fairey, then passed into Italian hands. Mario Crespi installed the bird's eye maple interior and in 1962 Piero Scanu had her fully rebuilt at Camper and Nicholson's.
Since then she was well kept, in Newport, Rhode Island, and refitted in 1989 by Elizabeth Meyer. Now back in the UK she has just completed another refit at the Pendennis Shipyard in Falmouth.