19 Jul 2009 15:58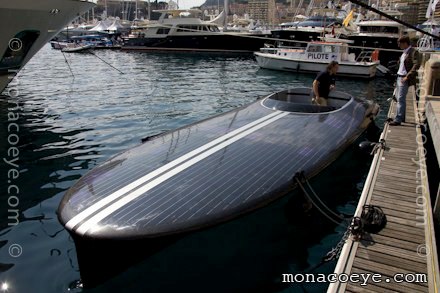 Name: Czeers Mk1
Length: 33 ft • 10m
Year: 2008
Builder: Czeers
Design: David Czap & Nils Beers
This solar-powered speedboat prototype was the subject of great interest at the 2008 Monaco Yacht Show, with soaring oil prices in the forefront of people's minds.
The two questions asked were a) does it really work and b) how much does it cost?
The answer to the first question was most definitely yes. It can run at 30 knots, powered solely by its solar-powered, lightweight - and silent - 80 kw electric motor. 14 square metres of flush-mounted photovoltaic cells cover its upper surface, which either charge the battery or can power the engine directly for cruising at 8 knots. The boat is made from carbon-fibre and weighs only 1000 kg.
At full speed the Czeers Mk1 can run for 30 minutes, but at 10 knots autonomy is much longer.
David and Nils started on this project in 2005 at Delft University. Spurred on by a win in solar-powered boat competition, they went on to form the Czeers company together, while still in their early twenties, with David in charge of design and Nils running the management side of things.
With the help of prestigious partners like Royal Huisman, they built the Czeers Mk1 prototype, billed as the world's first solar-powered speedboat.
The second question, how much does it cost, went unanswered. David would only say that it's a prototype and therefore not for sale!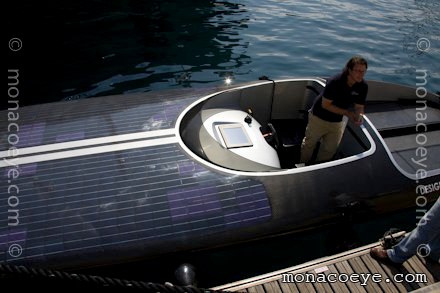 18 Jul 2009 18:11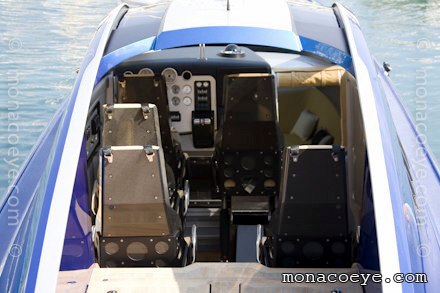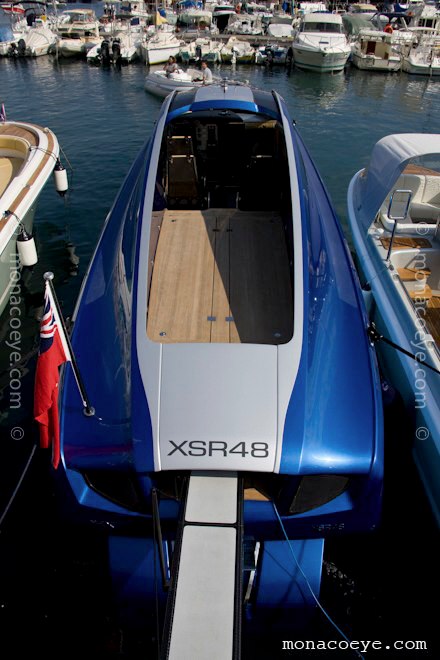 The XSR 48, now in blue, at the 2008 Monaco Yacht Show. Photo: monacoeye.
19 Sep 2008 15:21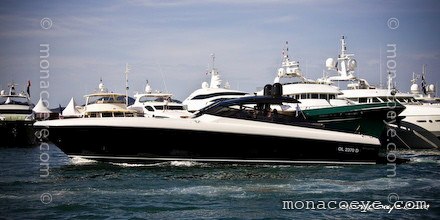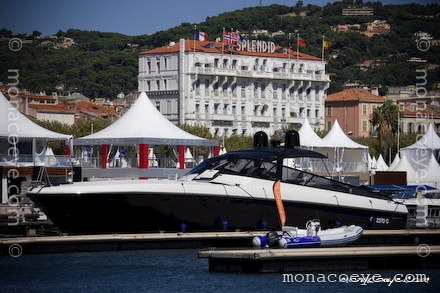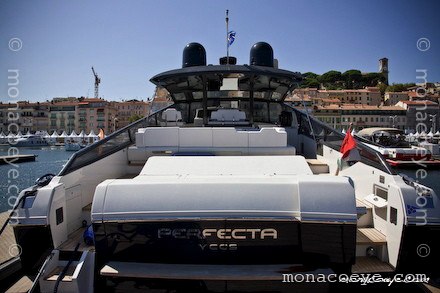 Yacht name: Perfecta •
Itama SeventyFive
Length: 75 ft • 23 m
Model year: 2008
Builder: Itama
Engines: 2 x 1823 hp MTUs
Top speed: 43 knots
Photo: monacoeye • Cannes Boat Show • September 2008
The new SeventyFive from Itama also comes in a limited edition VHP series with a top speed of 60 knots…