16 Jul 2010 21:45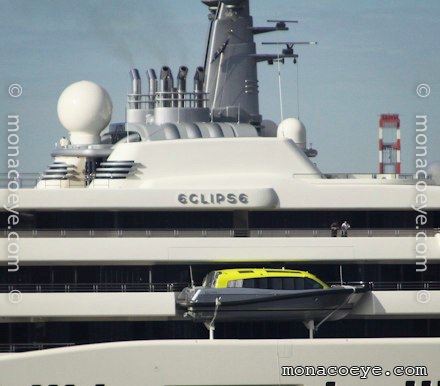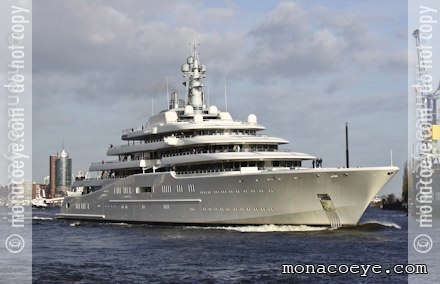 Photos copyright: KG/HLW/NH/monacoeye • Hamburg 2009-2010 • Do not copy without permission

Name:
Eclipse
Length: 533 - 557 ft • 162 - 170 m ?
Year: 2009
Builder: Blohm & Voss • # 978
Design: Terence Disdale
Volume: 13000 GT?
Owner: Roman Abramovich
Exclusive Photos: Klaus Gaeth • Hamburg • June 2009 - July 2010
Exclusive Photos: HLW • Hamburg • September 2009
Exclusive Photos: Niels Hartmann • Hamburg • 20 June 2009

10 July 2010
:
Eclipse
looks like she may be complete, from these latest photos of her leaving the port of Hamburg, sent in by Klaus a couple of days ago. Her tender has been fitted, angled funnels also fitted, and the mast section has been painted dark grey.
Notice she uses the same lifeboat-tender as
Luna
.
17 April 2010
: A
new excellent set of photos
from Klaus taken yesterday in Hamburg (
larger photos
). Eclipse has reappeared with owner Roman Abramovich on board (you might just be able to make him out, grinning in
this photo
) and left Hamburg. Eclipse is reportedly due to arrive in Kristiansand in Norway any time now, for further sea trials.
The Times reported in November 2009 that Mr Abramovich was frustrated at Eclipse unlikely to be ready for the world cup in South Africa in two months' time.
There are appears to be quite a lot of finishing work still to do on the boat, judging by the taped handrails and open lighting panels.
Eclipse eclipses Eclipse !
In the last two photos you will see another ship named Eclipse, behind the yacht Eclipse. That's the new 122,000-tonne, 1040-foot cruise ship
Celebrity Eclipse
which has also just been launched and is due to set off on her maiden voyage!
September 2009
:
Great new photos
from Klaus and HLW, showing Eclipse heading off on sea-trials. The name plate is now fitted, the hull is now white, funnels and sat masts have been fitted, work is progressing to the doors etc.
22 June 2009
: In these superb
new photos
from Niels Hartmann, the
scaffolding is back on Eclipse
and much finishing work still needs to be done. It will be several months before delivery, with early 2010 touted as a likely hand-over date.
The
bulbous bow
currently doubles up as a duck slide for a sizeable group of mallards.
13 June 2009
:
Eclipse
, the world's largest yacht, was launched yesterday 12 June 2009!
Here is
an excellent set of photos
from Klaus. She's out of the shed in Hamburg and looks … big.
Greenline Yacht Interiors, who fitted out "A" and are working on 141m MY Swift, are currently working on the interior for Eclipse.
At a reported 13,000 GT she is more than twice the volume of
Sigma
, but a little smaller in volume than
Al Said
. The project cost for Eclipse is reportedly about €340 million.
Larger photos here
. To purchase a photo for publication please contact monacoyachts@gmail.com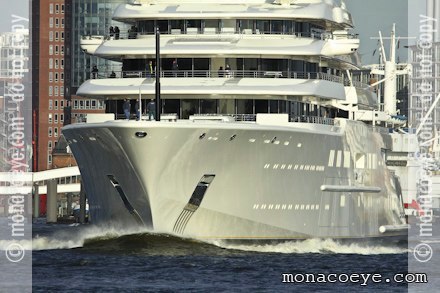 Read More...