03 Aug 2008 13:14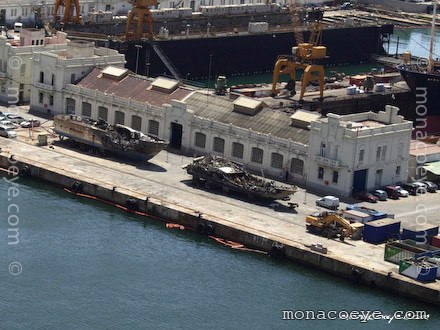 Photo: Ricardo Pilguy • Port Vell, Barcelona • July 2008
Photo: Katja Juvonen • Port Vell, Barcelona • July 2008
Update July 2008: The top shot shows the burned shells of XTC and Drumfire, seen from the air, by Ricardo.
2 March 2008: This video and
photo
, taken in Port Vell, Barcelona, Saturday, by local resident
Katja Juvonen
, caught the drama of a raging fire as it tore through four 20+ metre yachts.
All four yachts sank with a fifth sailing yacht badly damaged - you can see the mast topple in the video. 6 people were on board but unharmed. Katja says the fire team seemed slow to respond, which may have allowed the fire to take hold.
The fire chief was reported in the press as saying that the job of extinguishing the fire had been complicated by the water-repellent nature of the yachts themselves - which may have been scuttled, as a last resort.
This
La Vanguardia
video shows a general view of the port with many yachts nearby. More links in comments.