Moneikos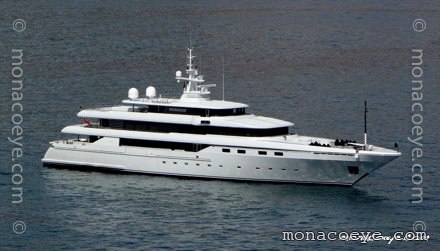 Yacht name:
Moneikos
• C112
Length: 203 ft • 62 m
Year: 2006
Builder: Codecasa • C112
Photo: Monaco • 4 September 2006
Moneikos, based in Monaco, was launched in June 2006 as a replacement for the previous Moneikos, now called
Dakota
.
The name Moneikos may refer to the Greek word Monoikos, often considered the origin of the current name of Monaco. Monoikos was the name of the 6th century BC colony of Phoceans from Massalia, today Marseilles, who settled Monaco.
Phocea
, near modern day Izmir in Turkey, was, in turn, at that time colonised by the Greeks, which explains the Greek name. Hercules was said to have passed through Monoikos on his travels, and in this area he was known as Hercules Monoikos.
Port Hercule
still bears his name. Julius Caesar also passed through Monaco, which the Romans called Monœcus…