Alamshar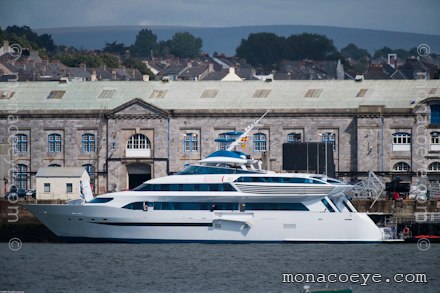 Copyright: PP/monacoeye • Torpoint, September 2010 • Do not copy without permission

Yacht name: Alamshar
Formerly Project P305
Length: 164 ft • 50 m
Year: 2007 - 2010
Builder: Devonport Yachts • # P305
Top speed: about 60-70 knots ?
Alamshar is fast 50-metre yacht recently relaunched by Devonport Yachts following problems after its first launch a few years ago.
According to a Daily Mail article from 2008 (below), the Aga Khan had the yacht designed to break the transatlantic yacht record but was only able to go at about 30 knots at launch, half the expected speed, and so it was sent back to the yard.
http://www.dailymail.co.uk/news/article-549352/More-carthorse-racehorse---Aga-Khans-100m-yacht.html