Super Servant 4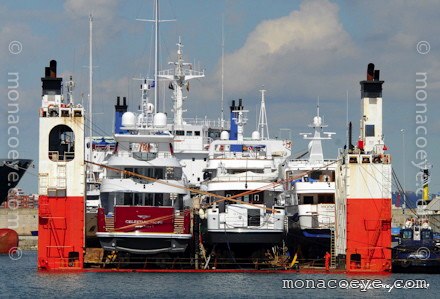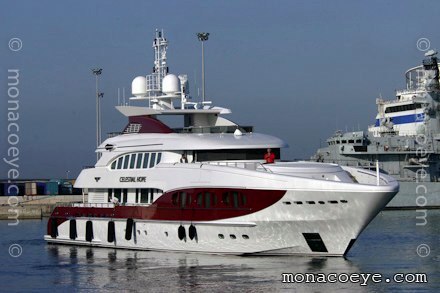 Name:
Super Servant 4
Length: 556 ft • 169 m
Speed: 14 knots
Operator: Dockwise Yacht Transport
Photo: FB • Mallorca • April 2009
The yachts are back! Here's DYT's mighty yacht carrier Super Servant 4, recently arrived in Mallorca from Port Everglades, with its 120 million dollar cargo, which is returning to the Med for cruising and charter bookings at the Cannes Film Festival in May.
DYT carriers "sink" to manoeuvre yachts on and off - this float on float off system alleviates the need for lifting equipment and reduces strains on hulls. Getting ready to float off we can see Celestial Hope, Il Cigno and Monaco, then Celestial Hope in the water … Thanks to FB for the nice photos !
Slightly smaller at 139 metres, but also semi-submersible, Super Servant 3 recently left Port Everglades, Florida, for Toulon, France, via the Caribbean. It unloaded 18 yachts and loaded 1 in St. Thomas, then moved on to Martinique where it loaded 18 more yachts, totaling 32 power and sailing yachts for a final cargo value of $140 million.