De Vrouwe Christina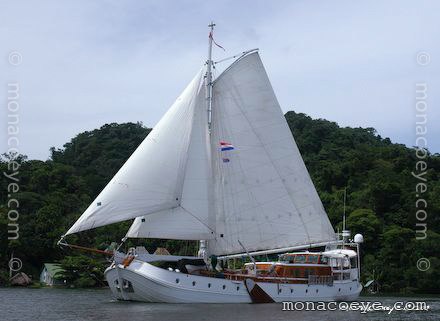 Yes, it's a Feadship! This wonderful shot of De Vrouwe Christina sailing down the Rio Dulce in Guatemala, for me, conjures up the romance of yachting. Henri Krijnen has kindly shared some of the details of the history of his unique Feadship, which he has beautifully refitted and restored over four years.
DVC was the only sail yacht of this type ever built by De Koninklijke De Vries in Aalsmeer as a Feadship. At the time, the Feadship consortium included several partners - only later were these to be boiled down to De Vries, Van Lent and De Voogt.
The model is a "pavilion sea tjalk" - a typical Dutch freighter, which has a 350 year old history. The tjalk is normally a flat-bottomed boat but De Vrouwe Christina was built with a small keel as a sailing yacht, for Prof. Crawford Failey (Farley?) of Connecticut in 1957.
The professor cruised her with a crew of 4 on the Intercoastal Waterways of the USA and in the Caribbean. Later she was owned by James Ryder, owner of the Ryder trucking company, a repeat Feadship customer.
In 2002, Henri Krijnen bought and completely refitted her, working from the original plans. Now she is 85% brand new: she has a new keel, all mod cons, and is far stronger than before.
The De Voogt designed exterior has remained exactly the same, but the interior is ulta-modern - mahogany has been replaced by light woods, while Dutch sculptor Anton Fortuin's original carvings have been retained. The lee-boards, which act as additional keels, have been completely remade from solid teak.
Currently De Vrouwe Christina is in Los Sueños, Costa Rica. Look out for her also on the 2007 Feadship calendar….
Yacht name: De Vrouwe Christina
Length: 80 ft • 24 m (plus 8 ft bowsprit)
Year: 1957
Builder: Feadship
Architect: De Voogt
Photo: Henri Krijnen • Rio Dulce, Guatemala • 23 July 2006