Guilty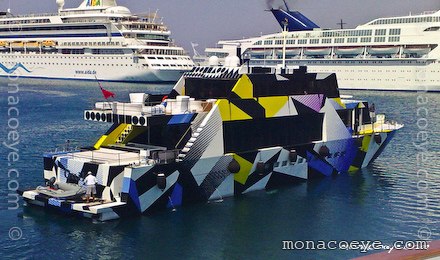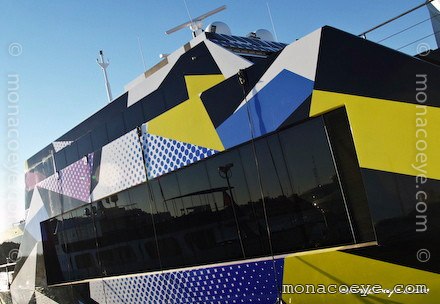 Yacht name:
Guilty
Length: 114 ft • 35 m
Year: 2008
Builder: Rizzardi
Exterior art: Jeff Koons
Design: Ivana Porfiri
Owner: Dakis Joannou
Photos, as always, exclusive to monacoeye !!
Photos: A • Rhodes • 1 July 2008
Photo: Aeolos • Faliro marina • 13 July 2008
The guest list for the christening of recently launched
Guilty
reads like a Who's Who of the contemporary art world. Nicholas Serota of the Tate, Jeffrey Deitch, Larry Gagosian, Marian Goodman, Maurizio Cattelan, Ashley Bickerton … the list goes on, and on.
Of course, Sarah Morris' text painting "Guilty" hangs on the wall of one bedroom - bought after the yacht was named. Owner and major art collector Dakis Joannou simply had to have it!
The exterior design was created by international art star Jeff Koons, famous for his basketball in perspex case, three-storey high "Puppy" made of flowers, and the "Made in Heaven" erotic series of photographs with Italian ex-wife and porn-star-member-of-parliament La Cicciolina.
Although the blown up print and poster colours will be familiar to art fans from Roy Liechtenstein's signature Ben-Day Dots style, Jeff Koons actually based this design on the Dazzle Painting, or Razzle Dazzle as the Americans called it, WW1 camouflage pattern invented by British marine artist and naval officer Norman Wilkinson - see comments below for more on this extraordinary style.
Ivana Porfiri created the unusual angular architecture.
Guilty
is likely to appear in next month's Italian Vogue.
Please leave your verdict in the comments below … !