Lady Christine Helicopter Crash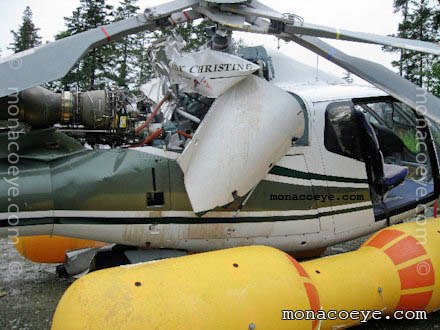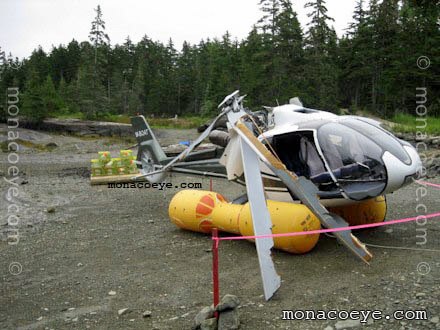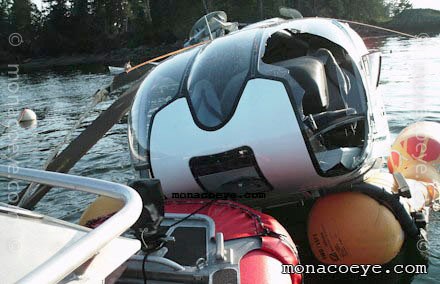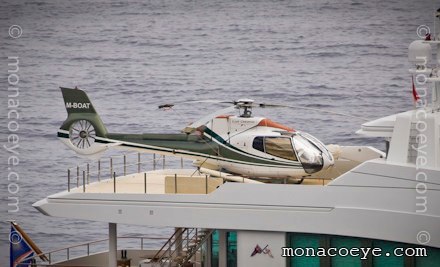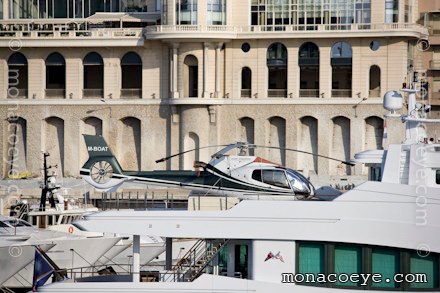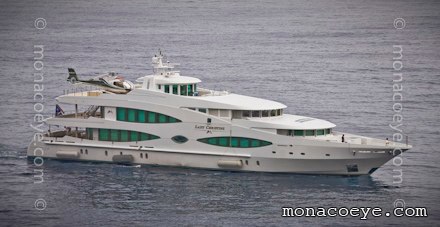 Helicopter tender to Lady Christine
Photo: monacoeye • Monaco Yacht Show • September 2008
Tow photo: US Coast Guard • Maine • 1 August 2009
On land: Mary Offutt • Little Deer Isle, Maine • 3 August 2009
Update - 4 August 2009: Mary has just sent in
photos of the wreck of the helicopter
, taken yesterday. You get a good view of the sturdy inflatable buoys which kept the craft from sinking and allowed the helicopter to be towed so easily.
The main rotor is unseated and the rotor blades and engine casing are very beaten up, the pilot's door is missing, but the cabin of the helicopter looks remarkably unscathed.
Those are lobster pots in the background, in case you were wondering…
According to press reports, Scottish peer Lord Irvine Laidlaw, 66, who owns Lady Christine, was at the controls of the helicopter when it crashed. He was picking up passengers and returning to the yacht.
Breaking news - 2 Aug 2009: Lady Christine's helicopter tender, the one pictured above with personalised registration M-Boat,
has crashed in the water
in Maine, USA, yesterday afternoon, 1st August 2009.
The accident happened near Little Deer Isle in Penobscot Bay, Maine. The helicopter took off with four people on board, including owner Lord Laidlaw at the controls, from Lady Christine, which was anchored at sea. The four got out safely after the crash and waded ashore to the island. One eye-witness said that after seeing the helicopter spin down fast into the water she was amazed that anyone got out alive.
A spinning helicopter is often a sign of a rear rotor malfunction.
A small boat was sent out from the Lady Christine to collect the four passengers and return them to the yacht.
Fortunately, no-one appears to be seriously hurt. One person was taken to a nearby hospital to be treated for a neck injury, but the injury was not considered serious.
"Salty Hebrew" left this eye-witness report on monacoeye.com below:
"I am a watchstander on the Training Ship State of Maine. Lady Christine pulled into Castine Harbor in Maine today. I watched her Heli tender take off as I was monitoring VHF Marine CH 16. 10 minutes after her takeoff, I witnessed a call to the USCG reporting that the heli tender went down in the water of a cove near Little Deer Isle, ME.....so.....Lady Christine is now missing her Heli =( as of Aug. 1st, 2009. "
The helicopter has now been towed to shore by the coastguard and the Environmental Protection Department are looking into containment methods for any resultant pollution that may exist.
Photo here
. About 30 gallons of fuel were on board when it crash-landed.
If you live nearby and have photos please send to monacoyachts@gmail.com and I'll post them on this page.