Lady Moura runs aground in Cannes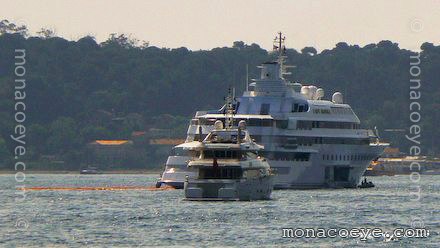 Breaking news: It is being reported that
Lady Moura has run aground
off the Port Pierre Canto in Cannes. The incident appears to have happened Saturday afternoon. According to a post on yachtspotter, she sent out a distress message on VHF saying she had run aground off Port Canto. She was listing 5 degrees and leaking fuel. She was then pulled off the 4.5m sea floor by a tug after the orange floating containment barrier, visible in the photo above, was placed around her. Guests and luggage were off-loaded.
By coincidence I happened to be in Cannes this [Sunday] morning, unaware of the accident. In the above photo taken at about 10 am (which happened to be in the background of another shot) she seems to be still listing, and the anti-pollution barrier was in place.
The area around Cannes during this period is extremely busy. Typically there will be 30 odd megayachts moored in the bay, with another 50-100 yachts over 30 m in length moored in the two ports at either end. Added to this are countless smalled craft, speedboats and tourist barges. There is a lot of movement with even the very large yachts such as Lady Moura moving around during the course of the day.
Update: The fuel was mopped up very quickly and Lady Moura is now safely in Spain for repairs.
Photo: monacoeye • 20 May 2007 • Cannes Film Festival
News source: PMY forum and
yachtspotter