Luna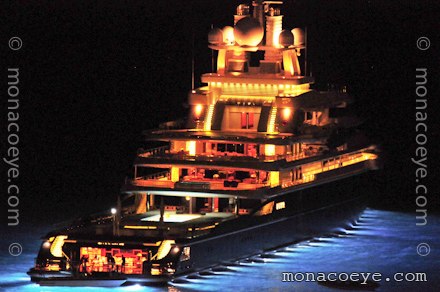 Photos copyright: NT/monacoeye Monaco • Do not copy without permission.
Yacht name:
Luna
Length: 377 ft • 115 m
Year: 2009
Builder: Lloyd Werft • SBN Stahlbau Nord
Naval architect: Lloyd Werft
Exterior design: Newcruise
Interior design: Donald Starkey
Above, a night shot of Roman Abramovich's new explorer yacht
Luna
's night lighting..
July 2010: Luna leaves Barcelona and arrives in
Monaco
.
May 2010: Luna in Barcelona for finishing works (see comments).
March 2010: Thilo Klink has sent in some great photos showing
Luna
looking very smart. Paint guard almost completely removed. Most exterior finishings appear complete, one tender is in place.
January 2010: Christian Eckhart sent in the
first photo
from the frozen North revealing a dark blue hull under the white plastic wrap protecting the hull's paintwork. The same colour scheme as LGB.
15 October 2009:
First pictures of Luna
, the massive explorer yacht nearing completion at Kaiserdock I …!