Al Salamah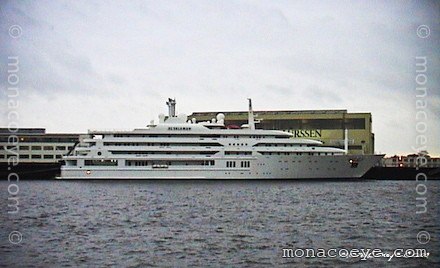 Yacht name:
Al Salamah
Length: 456 ft • 139 m
Year: 1999
Builder: Lürssen # 13590 • HDW
Design: Terence Disdale
Photo: Thilo Klink • Lürssen Werft • Bremen Vegesack Lemwerder • 2001
Finally a shot of the Saudi royal gigayacht Al Salamah - thanks to Thilo !
These photos were taken on a visit to the Lürssen Werft yard in Bremen Vegesack, back in 2001, in the pioneering days of digital cameras - I had a bit of fun with a Hockney style composite with the low res originals.
Al Salamah was back at MWB Bremen, in Bremerhaven, in 2007 - did anyone happen to record the visit ?
Thilo also has a question which had me stumped - I'll post it in the comments.