Monaco Yacht Show 2008
Monday: All the boats have now departed, just as the sunshine reappeared ! Most will be preparing their annual migration to Fort Lauderdale and the Caribbean for the winter. Many photos still to upload - bear with us, it'll take a couple of weeks to sort through them all…
Saturday update:
Anastasia and Oasis
under the casino, with the two CRNs Maraya and Romance behind. Out at sea
Stargate
and Alfa Nero stand out. That's
Xanadu
, the new Andrew Winch designed Benetti, behind
Alfa Nero
. At night, the
underwater lighting systems
put on quite a show…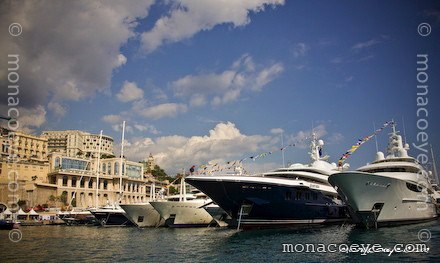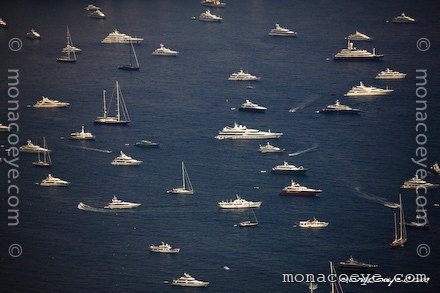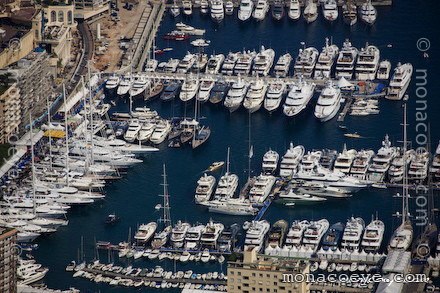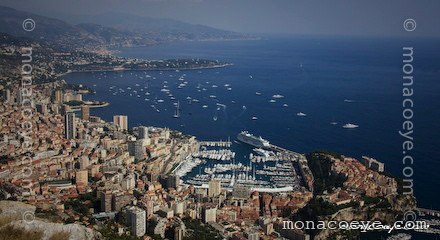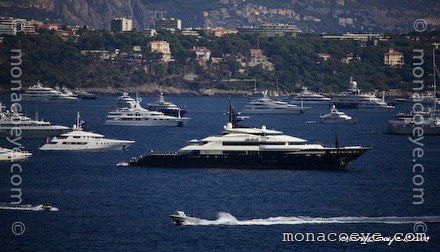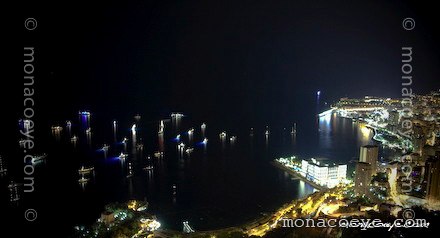 Thursday Update: Beautiful weather today - all the boats are safely in the port with a few dozen offshore, including Alfa Nero and Stargate. An excellent day for visiting the show … ! The
Red Arrows
caught everyone by surprise, captured below by NT.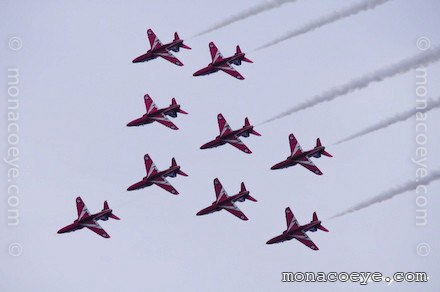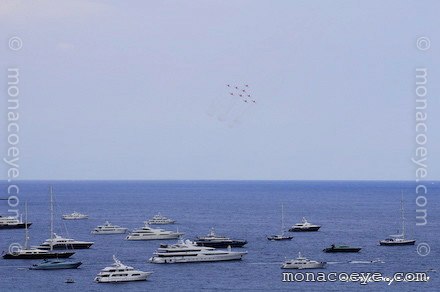 Tuesday Update: There were extraordinary scenes in Port Hercule today as three yachts found themselves in difficulty while trying to pull into their berths for the yacht show due to very strong winds. Photos below …
First the handsome new 53 m
Vinydrea
tried to squeeze into an impossibly small gap between Martha Ann and another medium sized yacht in very strong winds. Each time she approached the yacht she swung round 90 degrees from the force of the wind, with her side thrusters seemingly on full power. Having come perilously close to many of the other yachts surrounding her in the crowded port, she eventually gave up on that space, and opted for a larger space on the other side.
Meanwhile Harle was following from behind. Also unable to hold her position, she seemed to be blown very close to a ferry moored on the large jetty, before abandoning her attempt and beating a hasty retreat into the open water.
A little later Macalulu tried to enter the port, obviously tired of being buffeted by the strong winds out at sea. She seemed to be able to hold her course until a strong wind picked up as she entered the port and she ended up with one anchor stuck round the wrong side of her bow. She was thus also forced back out to open sea … !
The wind has dropped a little now, but the skies are still overcast…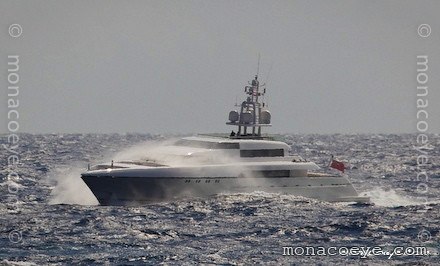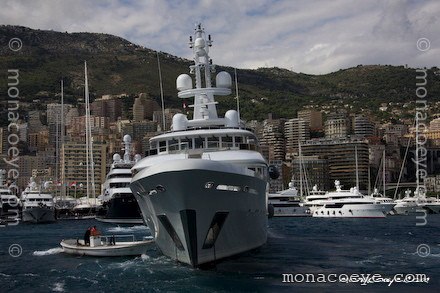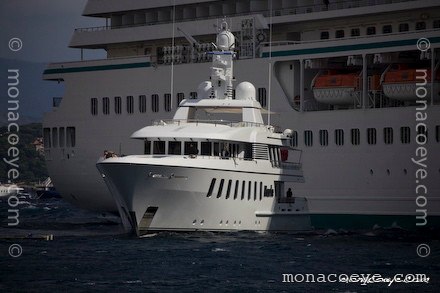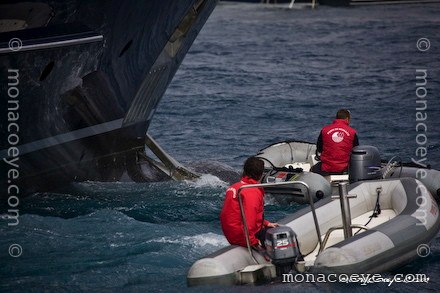 Sunday Update: The Yacht Show preliminaries started on Saturday, with yachts taking their places on the central T jetty and most regular residents vacating their places on the Quai des Etats Unis.
Weather terrible - black skies and rain - let's hope it clears up when it all kicks off on Wednesday. With credit markets frozen and worldwide financial gloom and doom will anyone be buying yachts this week ?
The
2008 Monaco Yacht Show
runs from Wednesday 24th to 27th of September 2008.
We'll be uploading photos, as weather and time permit, over the next week or two…