MTU 4000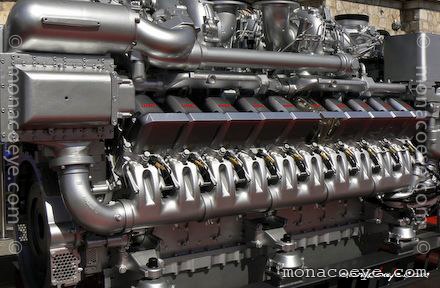 This is the new
MTU 4000 engine
unveiled at the show last week. This 20 cylinder model produces up to 4,300 KW or 5,795 bhp rated power. As a replacement for the older 16 cylinder 595 series, it should deliver 10% greater fuel efficiency, while the 12 and 16 cylinder models also benefit from over 25% more power per cylinder.
The new engine is also slightly smaller - about half a metre lower - and about one tonne lighter. Though at just under 12 tonnes, if it fell on your foot, I don't believe you would notice the difference. Dimensions are 3.9 x 1.5 x 2.4 m. The new 4000 series is also cleaner than its predecessors and has improved turbocharger technology.
MTU seems to be the current market leader as engine supplier to large yachts.