DB9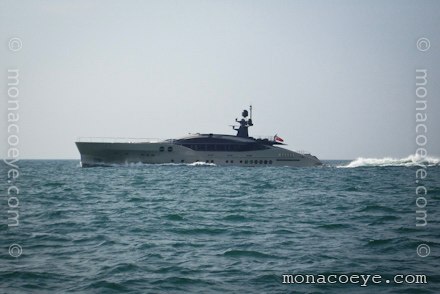 © Brian Rowlands / monacoeye. Isle of Wight. Do not copy without permission.


Yacht name: DB9
Length: 171 ft • 52 m
Year: 2010
Builder: Palmer Johnson • #501
Naval architect: Palmer Johnson
Design: Nuvolari & Lenard
DB9, the first Palmer Johnson 170 was launched in 2010. I had a good look at her exterior in Cap d'Ail this afternoon. The angled bow is a salient feature, seemingly combining a conventional and axe bow.
With muscular exterior styling, Nuvolari & Lenard have managed to retain some original design elements from the PJ 120, 135 and 150 evolution, while allowing the 170 to be the biggest and baddest of the lot.
DB9 sports two 16V MTU 4000 M93Ls producing about 12,000 rated horsepower (my estimate) and a top speed of about 28 knots.
She was built in Palmer Johnson's new Southampton UK yard. Thanks to Brian for the photo taken during sea trials off the Needles, near the Isle of Wight.
© monacoeye. Monaco. Do not copy without permission.