Steve Irwin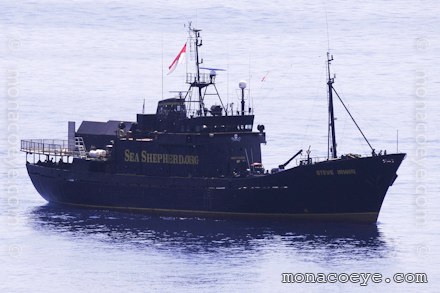 Copyright: NT/monacoeye • Monaco, July 2010 • Do not copy without permission

Name:
Steve Irwin
Formerly: MY Robert Hunter
Length: 174 ft • 53 m
Owner: Sea Shepherd
The
Sea Shepherd Organisation's
anti-whaling ship Steve Irwin was welcomed to Monaco harbour last week, as it took a break from its work releasing illegal undersized blue-fin tuna catches in the southern Mediterranean.
Sea Shepherd was started in 1981 by Captain Paul Watson, an original founder member of Greenpeace. It does not shy away from direct action, famously scuttling two of Iceland's whaling fleet in Reykjavik in 1986 and destroying their whale processing station. They also scuttled two Norwegian whaling trawlers in port and regularly cut driftnets and free fish where they find illegal fishing activity.