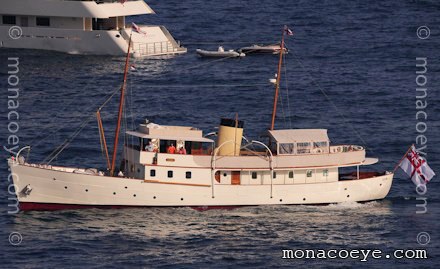 Yacht name:
Blue Bird
Formerly: Blue Bird IV -> Sterope -> Janick
Length: 104 ft • 32 m
Year: 1938
Builder: Goole
Rebuild: Astilleros de Mallorca • 2007
Architect: GL Watson
Interior: Bannenberg
Photo: NT • Monaco Grand Prix • May 2009
Blue Bird has a long and interesting history. She was originally commissioned as an ocean-going yacht for Sir Malcolm Campbell's treasure hunting ambitions. But World War II put an end to those plans and she was requisitioned and took part in the Dunkirk evacuation in 1940.
After the war she passed into the French car manufacturer Jean-Louis Renault's hands and was renamed Sterope. More recently, she was completely rebuilt to give her her original profile and a comfortable modern interior.