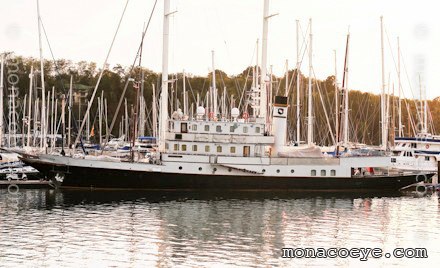 Yacht name:
Kalizma
Formerly: Minona -> Cortynia -> Odysseia
Length: 165 ft • 50 m (including bowsprit ?)
Year: 1906 • Rebuilt: 2006, with extra deck.
Builder: Ramage & Ferguson
Architect: GL Watson
Interior 2007: Dellatecnica
Photo: NT • Phuket • August 2009
Kalizma
is the yacht that Richard Burton bought for Elizabeth Taylor and renamed after their three children Kate, Liza and Marie.
Following her refit and extra top deck, she has recently cruised in South East Asia, from Phuket to Hong Kong via Sarawak and Sabah.
Now there's a cruise that captures the imagination! The Malaysian state of Sabah on the island of Borneo still has an incredibly rich variety of bird life, and is a top destination for nature lovers from around the world…
Here's a shot of how she looked pre-refit in
1969
…