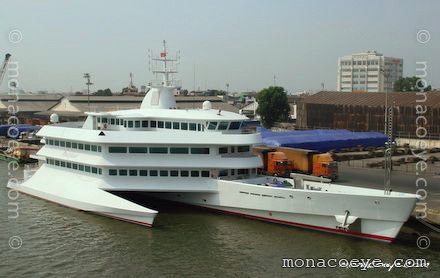 Yacht name:
Asean Lady
Length: 289 ft • 88 m
Beam : 70 ft • 21 m
Year: 2004
Builder: Yantai Raffles
Architect: Ian Mitchell
Interior: Annie Chang
Photos: Mats Nelson • Saigon • 14 April 2007
If you can remember the opening credits to Hawaii-5-O, then Asean Lady should look a little familiar. That's because the outrigger design - which uses a stabiliser for rough weather - is borrowed from the traditional Pacific canoe - the proa.
At 88 m however Asean Lady is one of the largest yachts in the world and her 21 m beam is similar to that of world's longest yacht Dubai. She was built for Brian Chang, CEO of Chinese shipbuilder Yantai Raffles. These great photos were taken in Saigon and sent in by Mats Nelson. Book him Danno!
Read More...