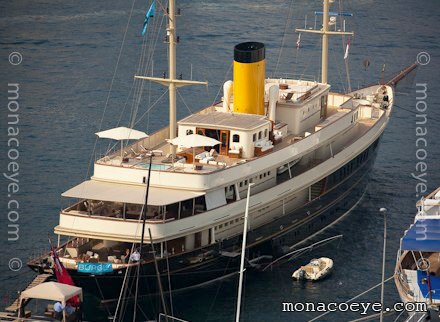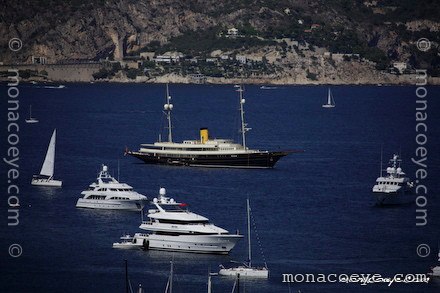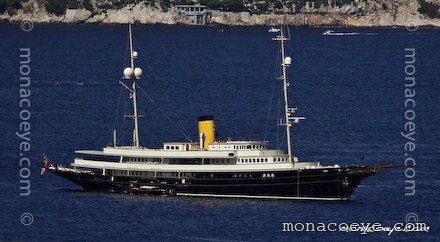 Yacht name:
Nero
Length: 295 ft • 90 m
Year: 2007
Builder: Corsair Yachts • Yantai Raffles
Architect: IMT Marine
Design: Neil Taylor
Photos: monacoeye • Beaulieu • August 2008
Nero is now on sale for €75 mil - Burgess had an open day at the weekend.
The elegant
Nero
was launched in 2007 in Yantai, China. She shares some similarities with JP Morgan's famous Corsair IV, the largest US-built yacht (wrecked in 1949), in her length and general layout. A superbly executed retro design !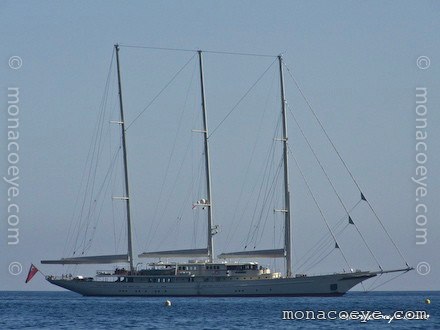 Yacht name:
Athena
Length: 295 ft • 90 m
Year: 2004
Builder: Royal Huisman • # 378
Design: Beeldsnijder • Dijkstra
Photo: monacoeye • Antibes • December 2005
Jim Clark, the owner of this three-masted schooner, is a keen sailor, also owns Hyperion and was a founder of Netscape and Silicon Graphics.
Athena was the world's largest private sailing yacht until the launch of Eos in 2006.
Read More...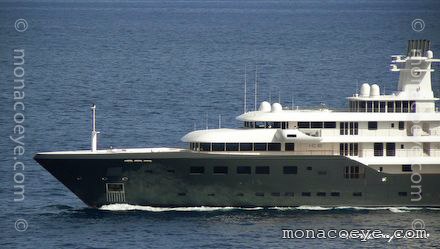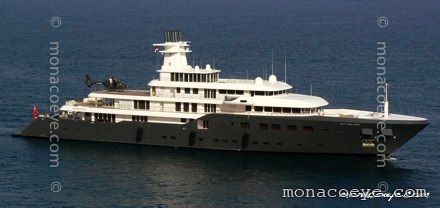 Yacht name:
Ice
- Formerly: Project Rainbow • Air
Length: 295 ft • 90 m
Year: 2005
Builder: Lürssen • # 13628
Architect: Lürssen & Tim Heywood
Engines: 8 x 1129 diesel electric • 2 ABB Azipods
Photo: monacoeye • Monaco • 20 July 2006 & 25 August 2007 •
new photos
Suleiman Kerimov's Ice, bought from Ernesto Bertarelli, if the stub article on Wikipedia is to be trusted (!), visited Monaco a couple of days ago. Mr Kerimov is reported to be making steady progress from the serious burns he suffered when he crashed his Ferrari Enzo into a tree on the Promenade des Anglais in Nice last November.