XSR48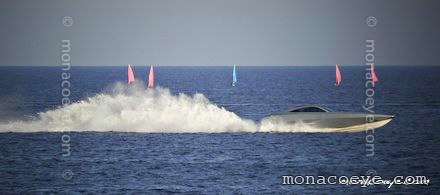 Model:
XSR48
Length: 14.6 m • 48 ft
Year: 2007
Builder: XSMG
This little beauty, from UK based XSMG, was sprinting around Monegasque waters yesterday evening. The XRS48 comes in a variety of engine configurations. The Race Spec 2 x 2000 hp diesels can reach top speeds of 85 knots.
The 2400 hp petrol V8 option is even faster and will take you to 95 knots (110 mph - 175 kph) !! - but is not available in Europe due to emissions regulations. Edmiston is showing them off - prices start at £1m - $2m.
The XSR48 will be at the 2007 Monaco Yacht Show in September, in the tender section. XSMG are also trying to set speed records for London - Monaco and London - St Petersburg. There will be plenty of fuel stops on the way as the range, at 50 knots cruising speed, is 300 nautical miles.